Sven Vlaeminck
Research Data Management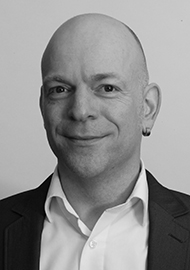 T: +49-40-42834-415
Neuer Jungfernstieg 21
20354 Hamburg
Project management Research Data Management
DFG project EDaWaX
da|ra (Registration agency for datasets in social sciences and economics)
until 2007
Studies of Political Science at the University of Göttingen
2008-2010
Research assistant at the department Reseach and Development at Göttingen State and University Library
since 2010
Research assistant at the ZBW
Working papers, Reports and other Contributions
Zwei Ansätze zur Lösung der Replikationskrise in den Wirtschaftswissenschaften
Replizierbare Forschung in den Wirtschaftswissenschaften erhöhen - eine Herausforderung für wissenschaftliche Infrastrukturdienstleister
On the role of research data centres in the management of publicationrelated research data: Results of a survey among scientific infrastructure service providers
Zur Rolle von Forschungsdatenzentren beim Management von publikationsbezogenen Forschungsdaten: Ergebnisse einer Befragung von wissenschaftlichen Infrastrukturdienstleistern
Welche Rolle spielen Forschungsdaten eigentlich für Fachzeitschriften? Eine Analyse mit Fokus auf die Wirtschaftswissenschaften
Die Ergebnisse wirtschaftswissenschaftlicher Forschung nutzbar machen: Das Projekt EDaWaX (www.edawax.de)
Articles (peer reviewed)
Die Entwicklung eines Forschungsdatenarchivs für Fachzeitschriften
Journals in Economic Sciences: Paying Lip Service to Reproducible Research?
On the role of research data centres in the management of publication-related research data
Zur Rolle von Forschungsdatenzentren beim Management von publikationsbezogenen Forschungsdaten – Ergebnisse einer Befragung von wissenschaftlichen Infrastrukturdienstleistern im Bereich der Sozial- und Wirtschaftswissenschaften
Data Management in Scholarly Journals and Possible Roles for Libraries - Some Insights from EDaWaX
Articles in Other Journals
Daten nicht nur sammeln und nutzen, sondern auch teilen
Replizierbare Forschung in den Wirtschaftswissenschaften erhöhen – eine Herausforderung für wissenschaftliche Infrastrukturdienstleister
6. Open-Access-Tage 2012 in Wien. Ein Konferenzbericht
Contributions
Data Policies and Data Archives: A New Paradigm for Academic Publishing in Economic Sciences?
Forschungsdatenmanagement in den Wirtschaftswissenschaften - Ausgewählte Dienste und Projekte der Deutschen Zentralbibliothek für Wirtschaftswissenschaften - Leibniz-Informationszentrum Wirtschaft (ZBW)
Monographs (Author)
Auffinden, Zitieren, Dokumentieren: Forschungsdaten in den Sozial- und Wirtschaftswissenschaften. Version 1.1
Auffinden, Zitieren, Dokumentieren: Forschungsdaten in den Sozial- und Wirtschaftswissenschaften. 1. Auflage
Auffinden, Zitieren, Dokumentieren: Forschungsdaten in den Sozial- und Wirtschaftswissenschaften. 2. Auflage
Conference Papers
Welche Rolle spielen Forschungsdaten eigentlich für Fachzeitschriften? Eine Analyse mit Fokus auf die Wirtschaftswissenschaften
Puzzling over digital preservation: Identifying traditional and new skills needed for digital preservation