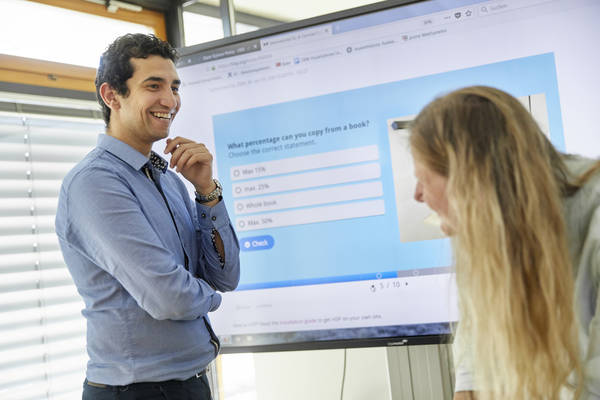 Project EDUArc explores Open Educational Resources
Photo credits: Sven Wied | © ZBW - Leibniz Information Centre for Economics
What is knowledge transfer at the ZBW?
It is the mission of the ZBW to make scholarly economic information accessible and visible for all. Open Science – the opening up of research worlds – is a large task. The ZBW has embraced this task and researches problems related to this task. The ZBW is also actively engaged in science policy, developing, operating and integrating infrastructure in order to achieve this goal.
The ZBW – Leibniz Information Centre for Economics operates according to certain principles that ensure its research and development activities and its operative work conform to the highest methodological standards. Among these standards we count the transparency of research findings and work results achieved, as well as practices such as the publication of data or the free accessibility of published research findings and work results. We also count formats like conferences or workshops which serve to present and to reflect our own work.
We strive
to transfer our knowledge about Open Science and Open Science infrastructure and their possible applications and
to foment transfer formats that serve to promote exchange and linkage.
At the ZBW, we consider knowledge transfer to be a subtask of scholarly and operative work. It is part of the ZBW strategy to look for new ways of knowledge transfer in order to share scientific findings about Open Science with peers and scientists from other disciplines, especially from economics, but also with numerous non-academic partners.
We direct our activities in knowledge transfer at decision makers, specific interest groups such as national and international libraries, economic partners (such as publishers), and the general public. Knowledge transfer comprises all activities that transfer knowledge, technologies, skills, resources, and an understanding of scientific culture into society and foster dialogue with society. Different translation efforts are required to address different social actors from science, politics, business, specific interest groups, and the general public. Our activities range from policy consulting to information provision for the wider public.
As a member of the Leibniz Association, the ZBW pursues science for the benefit of society according to the ideal of theoria cum praxi. Knowledge transfer is essential for this: it enables society to understand and to use research-based knowledge. The gains of scientific activities are made visible and available through knowledge transfer.
We focus our activities in knowledge transfer on the following Open Science topics:
Open Access
Open resp. FAIR Data
Open Software
Open Tools
Open Educational Resources
Tools of knowledge transfer:
ZBW as intermediary for knowledge transfer between economic research and society