Science Policy Coordinator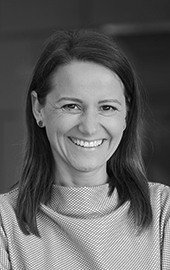 Neuer Jungfernstieg 21
20354
Hamburg
2018-2021
Regional Manager Styria, Teach For Austria
since 2011
ZBW – Leibniz Information Centre for Economics
Head of the department Social Media/Open Science Transfer until 03/2016
(on parental leave from 03/2016-08/2021)
Science Policy Coordinator since 09/2021
2007-2010
Research assistant at the Institute for Knowledge Management (IWM) at the Technical University of Graz: Head of development project "Neurovation"; Strategy development at the Know-Center (Austrian Centre of Competence for Knowledge Management) and at the IWM
2005-2008
PhD studies at the Faculty of Social Sciences and Economics, University of Graz (Austria)
2005-2007
Project management/collaborator in the development team of the research project "Neurovation" (Fostering creativity at knowledge workplaces, supported by Web 2.0 elements), ISN - Innovation Service Network GmbH, Graz (Austria)
2005-2006
External lecturer at the Chair of Innovation and Technology Management, University of Vienna
2003-2004
Studies at the University of Wales, Swansea (United Kingdom)
2000-2005
Studies of International Business Administration at University of Vienna (focussing on innovation and technology management; investment analysis)
Contributions
Design and use of computer-based tools supporting forest planning and decision making in Austria
Unterstützung von Wissensarbeit und Open Innovation mittels Web 2.0 am Beispiel der Ideenplattform Neurovation
[Book Review of] Anne S. HUFF, Kathrin M. MÖSLEIN & Ralf REICHWALD (Eds.): Leading Open Innovation, MIT Press, Cambridge, 2013, 328 p.
Interview with Frank PILLER Aachen University, Germany / MIT Media Lab, USA
A New Openness: How to Deal with New Challenges as Open Innovation and Crowdsourcing Become Standards in Management Practice
Eine neue Offenheit: Vom Umgang mit neuen Herausforderungen angesichts der zunehmenden Durchsetzung von Open Innovation und Crowdsourcing in der Managementpraxis
ZBW - Leibniz-Informationszentrum Wirtschaft: Community-Management als Wegbereiter für Open Innovation
Open Innovation in der Bibliothekswelt – quo vadis?
Computer-basiertes, individuelles Lernen bei der Arbeit: Entwicklungen und Trends
Computer-based, individual learning at work: Developments and trends
Monographs (Editor)
Open Innovation 2.0 - Co-creating with users
Working papers, Reports and other Contributions
Open Innovation in der Bibliothekswelt: Quo vadis?
Articles in Other Journals
Open Innovation in Bibliotheken - Ein neuer Weg für das Innovationsmanagement?