Professor Klaus Tochtermann
Director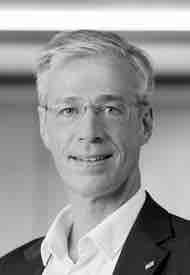 T: +49-431-8814-333
T: +49-40-42834-351
F: +49-431-8814-530
Düsternbrooker Weg 120
24105 Kiel
Director
Head of Department: Digital Information Infrastructures
Open Science, European Open Science Cloud
Knowledge Management and Knowledge Transfer
Web 2.0
Semantic Technologies
1985-1991
Diploma in Computer Science, Universities of Kiel and Dortmund
Doctorate in Computer Science, University of Dortmund
1996
Postdoc,

Texas A&M University, Center for the Study of Digital Libraries,

USA
1997-2000
Head of Department, Research Institute for Applied Processing, Ulm
2001-2010
Managing Director, Austria's Competence Centre for Knowledge Management, Know-Centre Graz
2002
Habilitation (2nd doctorate degree) in "Applied Information Processing and Communication", Graz University of Technology
2004-2010
University Professor in Computer Science at Graz University of Technology
Since 2010
Director of the ZBW - Leibniz Information Centre for Economics and University Professor for Digital Information Infrastructures at the University of Kiel
Fellowships / professional affiliations (selection)
Visiting Professor for Digital Infrastructures at the University of St. Gallen (2016)
Visiting Professor at the Universiti Teknologi MARA (Malaysia) (until 2016)
Member of the High-Level Expert Group "European Open Science Cloud" of the European Commission, DG Research and Innovation (until 2018)
Member of the German Council for Scientific Information Infrastructures
Member of the Supervisory Board of the Know-Center - Graz (Austria)
Member of the Working Group Sustainability for the European Open Science Cloud
Member of the Research Infrastructure Advisory Council at Hamburg University
Chair of the Advisory Council for Digitalisation at Graz University of Technology
Member of the Advisory Board at numerous institutes of the Leibniz Association
Conference Papers
Implementing FAIR Data Infrastructures
Articles (peer reviewed)
Metadata Challenges for Long Tail Research Data Infrastructures
A Generic Research Data Infrastructure for Long Tail Research Data Management
Linking science: approaches for linking scientific publications across different LOD repositories
LOD for Library Science: Benefits of Applying Linked Open Data in the Digital Library Setting
Paper Prototyping: The Surplus Merit of a Multi-Method Approach
Science 2.0 and Libraries - Convergence of two sides of the same coin at ZBW - Leibniz Information Centre for Economics
Automating Property Binding into Informational Aspects from Linked Data
Exposing data from an Open Access repository for Economics as Linked Data
How Science 2.0 will impact on scientific libraries
Der Leibniz-Forschungsverbund Science 2.0
Just for the image? The impact of Web 2.0 for public institutions
Der Inhalt muss zum Nutzer: Kennzeichen der zukünftigen wissenschaftlichen Bibliothek
Exploring Scientific Publication and Cross Domain Linked Dataset for Similarity - A Case Study
Exploring Appropriation of Enterprise Wikis: A Multiple-Case Study
Webbing Semantified Scholarly Communication Datasets for Improved Resource Discovery
Assessment of usability benchmarks: Combining standardized scales with specific questions
Editorial: Knowledge Processes and Services - Wissensprozesse und -dienste
Future Internet und die Bibliothekswelt
Ontology alignment: A survey with focus on visually supported semi-automatic techniques
Semantically enhanced software documentation processes
Disseminating Knowledge through Tags: Recommending Tags for Scientific Resources
Harvesting Pertinent Resources from Linked Open Data
Conference Papers (peer reviewed)
Collecting and Controlling Distributed Research Information by Linking to External Authority Data - A Case Study
Inductive Learning of Concept Representations from Library-Scale Corpora with Graph Convolution
Scholarly Resources Structuring: Use Cases for Digital Libraries
Take it Personally - A Python library for data enrichment in informetrical applications
Compiling Scholarly Profile Pages by Integrating External Authority Data
Bringing Scientific Blogs to Digital Libraries: An Integration Process Workflow
Visual Search in Digital Libraries and the Usage of External Terms
Bringing Scientific Blogs to Digital Libraries
Semantic Enrichment of Web Query Interfaces to Enable Dynamic Deep Linking to Web Information Portals
Scientific Social Publications for Digital Libraries
Enriching Scientific Publications from LOD Repositories Through Word Embeddings Approach
Author Profile Enrichment for Cross-linking Digital Libraries
Retrieving and ranking scientific publications from Linked Open Data Repositories
Automating property binding into informational aspects from Linked Data
No pictures, please! How graphics and photos can distort paper prototying
Semantification of Query Interfaces to Improve Access to Deep Web Content
Semantic Retrieval Interface for Statistical Research Data
A Data Restore Model for Reproducibility in Computational Statistics
Finding Resources in Scholarly Communication and Cross-domain Linked Dataset
Is the Web Turning Us into Dummies?
Linked Library Data: Offering a Backbone for the Semantic Web
Addressing the long tail in empirical research data management
Towards a Recommender System for Statistical Research Data
Interlinking Scientific Authors with the LOD Cloud. A Case Study
Just for the image? The impact of Web 2.0 for public institutions
Sophisticated usability evaluation of digital libraries
Assessment of usability benchmarks: Combining standardized scales with specific questions
Discovery and Construction of Authors' Profile from Linked Data (A case study for Open Digital Journal)
Constructing Experts Profiles from Linked Data
Articles in Other Journals
FAIRe Forschung. Wie Wissenschaftliche Bibliotheken den Herausforderungen von Open Science begegnen
Open Science: (Wissenschaftliche) Bibliotheken spielen eine zentrale Rolle
Daten nicht nur sammeln und nutzen, sondern auch teilen
Schülerwettbewerb zu ökonomischen Fragen bringt Jugendlichen Informations- und Medienkompetenz näher
Die Strategie 2015-2020 der ZBW - Leibniz-Informationszentrum Wirtschaft
Ein Netzwerk aus Forschenden, Leserschaft und Computern
Open Innovation in Bibliotheken - Ein neuer Weg für das Innovationsmanagement?
Die Wertschöpfungskette der Daten: Eine Basis für zukünftige wirtschaftswissenschaftliche Betrachtungen des Web of Data
Future Internet - Chancen und Risiken für die Medienbranche und Bibliotheken
Contributions
Öffentlichkeitsarbeit für Wissenschaftliche Bibliotheken im digitalen Zeitalter
Wissenschaft und Digitalisierung. Science 2.0: neue Themen und Chancen im Wissenschaftsmanagement
A New Openness: How to Deal with New Challenges as Open Innovation and Crowdsourcing Become Standards in Management Practice
Eine neue Offenheit: Vom Umgang mit neuen Herausforderungen angesichts der zunehmenden Durchsetzung von Open Innovation und Crowdsourcing in der Managementpraxis
ZBW - Leibniz-Informationszentrum Wirtschaft: Community-Management als Wegbereiter für Open Innovation
Community-Management-Methoden
Microblogging - Die schnelle Variante des Bloggens
Open Innovation in der Bibliothekswelt – quo vadis?
Enterprise Wikis – Types of Use, Benefits and Obstacles: A Multiple-Case Study
Computer-basiertes, individuelles Lernen bei der Arbeit: Entwicklungen und Trends
Computer-based, individual learning at work: Developments and trends
Working papers, Reports and other Contributions
Science 2.0 - Mapping European Perspectives. Report on the General Stance of Organizations on European Commission's Public Consultation on Science 2.0
Interview: Herausforderungen bei der Dokumentation. Ein Gespräch mit den Direktoren der Zentralen Fachbibliotheken TIB, ZB MED und ZBW
Open Innovation in der Bibliothekswelt: Quo vadis?
Pentos AG: Nachhaltiges Mitarbeiter-Blogging
Monographs (Author)
Auffinden, Zitieren, Dokumentieren: Forschungsdaten in den Sozial- und Wirtschaftswissenschaften. Version 1.1
Auffinden, Zitieren, Dokumentieren: Forschungsdaten in den Sozial- und Wirtschaftswissenschaften. 1. Auflage
Auffinden, Zitieren, Dokumentieren: Forschungsdaten in den Sozial- und Wirtschaftswissenschaften. 2. Auflage
Wissenstransfer mit Wikis und Weblogs: Fallstudien zum erfolgreichen Einsatz von Web 2.0 in Unternehmen. 2. Auflage
Wissen wirkt in Prozessen: Wissensmanagement in der Praxis - Fokus Prozessmanagement
Wissen schafft Projektperformance: Wissensmanagement in der Praxis - Fokus Projektmanagement
Wissen steigert Unternehmensqualität: Wissensmanagement in der Praxis - Fokus Qualitätsmanagement
Monographs (Editor)
Web 2.0 und Social Media in der Unternehmenspraxis: Grundlagen, Fallstudien und Trends zum Einsatz von Social Software. 3. völlig neu überarbeitete Auflage
Contributions (peer reviewed)
Bibliotheken im Future Internet