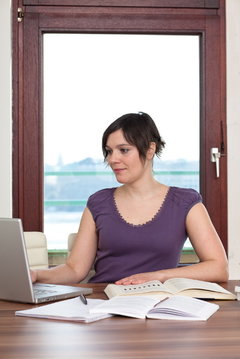 There is a journals reading room on the ground floor, where the current issues and volumes containing the last ten years of the most renowned journals are on display.
On the first floor you will find stand-alone workstations where you can connect your laptop.
On the first floor you will also find a reading room where you can concentrate on your work.
At the internet workstations on the first floor you can access electronic journals and databases, for which the ZBW has acquired a user's licence and which are generally not available outside the premises of the ZBW.
The internet workstations are connected to our network printer (printouts must be paid for).
Scanners are also available.
Rooms for group study
In the group study rooms on the first floor you can work undisturbed in teams and connect your own laptop. E-Screens are available in rooms 133 and 135. You can reserve your group study room at the information desk.
Book carts and book lockers
Book carts are available to you in the reading room on the first floor. You can find book lockers on the ground floor. You can reserve lockers and carts for two months if you work regularly in the ZBW and wish to lock up your documents.