How to order books and articles
If you wish to order items from the ZBW holdings you need a ZBW card. It is available without cost at the service desk in Kiel and Hamburg.
You can search and order in EconBiz. Just click the link "Login" at the top right-hand corner of the bar in EconBiz.
Call up the title you wish to order from your results list in EconBiz by clicking the link "available at ZBW". At the end of the detailed entry there is a request button. in the case of journals you'll see a list of volumes. Select the one(s) you need and request them.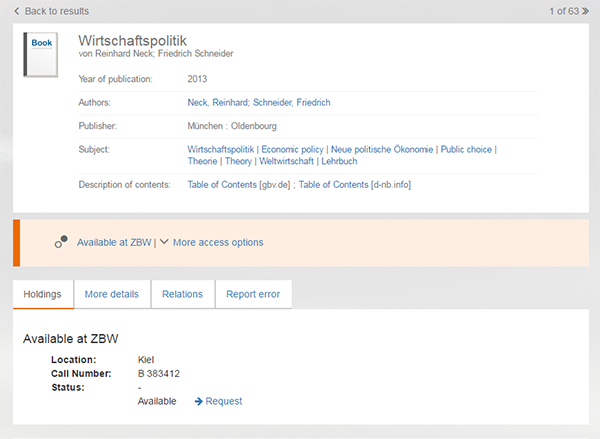 After clicking the button "Request" a page will open where you can choose whether you want to pick up the book or journal in Kiel or in Hamburg. Please take note of the corresponding times allotted for transport. Input your ZBW card number and your password (the default setting is your birthday as DDMMYY) and send the form.
If a publication does not have a "Request" button
Call up the detailed view. At the bottom of the entry you will find a link to the order form ("Order here").
You can borrow books for 3 weeks and then renew the loan period up to 4 times unless they have been reserved by someone else.
You can renew the loan period yourself online in your ZBW account. In EconBiz you will find this at the top right-hand corner of the page if you have selected the ZBW view. In your account you can see a list of all your borrowed items, their due date and the option to renew the loan period. When you have done so, there may be notes about items that could not be renewed, please take note of these.
A renewal extends the loan period for 3 weeks starting on the day of the renewal.
You can make reservations for books and journals in online in your ZBW account. Titles that are currently on loan have a button "Reserve".
Journal volumes will be at your disposal for reading, copying and scanning in the library for 5 working days.
Journals from the current year
Journals from the current year cannot be requested with a request button. You will see the notice "Unbound/Please use the order form". To order these issues, please use the order form.
Older journal volumes
You can order older journal volumes that do not show up in the volume list with the order form.